Malaysian Education Ministry Announces "Guidelines" for Parents to Identify Gay and Lesbian 'Symptoms'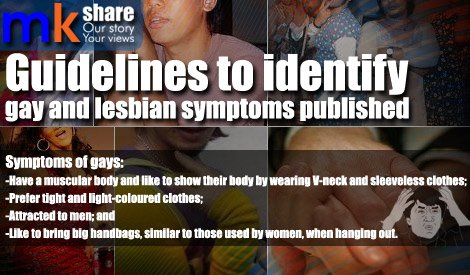 An article published on
Malaysiakini
has left readers questioning the
seriousness
of a set of 'guidelines' to identifying gay and lesbian symptoms in children.
The ridiculous list endorsed by the Ministry of Education is supposed to help parents spot gay and lesbian 'symptoms' in their kids so they can take early corrective measurements. The 'guidelines'
include
:
Symptoms of gays:
Have a muscular body and like to show their body by wearing V-neck and sleeveless clothes;
Prefer tight and light-coloured clothes;
Attracted to men; and
Like to bring big handbags, similar to those used by women, when hanging out.

Symptoms of lesbians:
Attracted to women;
Besides their female companions, they will distance themselves from other women;
Like to hang out, have meals and sleep in the company of women; and
Have no affection for men.
The guidelines warn that "Once the children have these symptoms, immediate attention should be given,"

Sin Chew Daily reports that these guidelines published by Yayasan Guru Malaysia Bhd and Putrajaya Consultative Council of Parents and Teachers Associations were launched during a seminar in Penang yesterday.

Endorsed by the Education Ministry, the "Parenting in addressing the issue of LGBTs (lesbians, gays, bisexuals and transgenders)" seminar was organized by Yayasan Guru Malaysia Bhd and officiated by Deputy Education Minister Mohd Puad Zarkashi.
"Youths are easily influenced by websites and blogs relating to LGBT groups. This can also spread among their friends. We are worried that this happens during schooling time," Puad told some 1,500 teachers and parents.