Unpaid Workers At Queen's Jubilee Were Forced To Sleep Under London Bridge
An apparent mix-up during Queen Elizabeth's Jubilee celebrations has resulted in quite an uproar. According to reports, the British government allegedly hired dozens of unemployed citizens to from out of town to work without pay at the Jubilee, and forced them to sleep in deplorable conditions.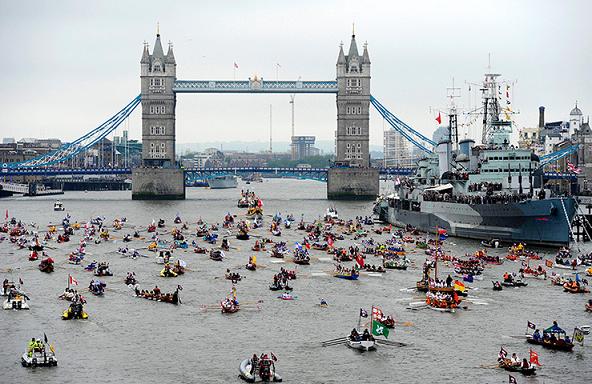 According to the
Guardian
, several of the "long-term unemployed jobseekers" hired by Close Protection UK (CPUK) allege that they were promised compensation, only to be told after getting on the bus to London that the gig was unpaid.
They further claim that the stewards expected to receive suitable accommodations, but instead were made to sleep under the London Bridge despite poor weather conditions and the concrete floor making tent-pitching an impossibility.
Their situation did not improve much during the day: The stewards were reportedly left without toilet access for 24 hours; were forced to work 14 hours in the rain with nothing but a see-through plastic poncho for protection; and were eventually dumped at a "swampy campsite outside London."
In response to these allegations, CPUK confirmed that jobseekers were being "assessed in a live work environment" as part of their ongoing training for a paid spectator safety position. They blamed the London Bridge incident on "an unfortunate set of circumstances" and "not lack of care on the part of CPUK."
Tomorrow's People, the charity that supplied CPUK with its manpower through the UK's Work Programme, claimed it was still investigating the claims, but said it "believes strongly in the value of work experience in helping people to build the skills, confidence and CV they need to get and keep a job."
Still, the incident has no doubt marred the celebrations, leading UK politics blog
Liberal Conspiracy
to question those involved on where the £1.5m allocated toward stewarding the river pageant went. Former Deputy Prime Minister Lord Prescott has called for a formal inquiry, saying if the allegations were true, they were "appalling."