Girl cries rape after having a threesome with two strangers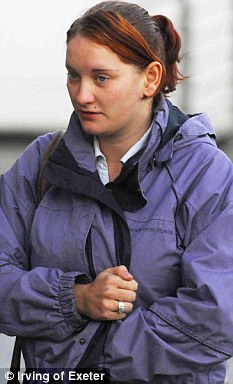 Chole Dolton, 22, is accused of making a false rape claim
After an alcohol-filled night, Chloe Dolton, 22 who had had an argument with her boyfriend and was very 'bored' with her life engaged in a consensual threesome act with two Polish strangers she had met at a late night party.

Her embarrassing behaviour led to her accusing the two men for rape.

According to the Daily Mail:

Dolton told police that Robert Joborski and Gregor Bukowski grabbed her as she walked home alone from a late-night party where she had played drinking games.

She said they then raped her in a stone shelter built into the side of a cliff in the North Devon resort of Ilfracombe.
A jury heard she had previously expressed her sexual fantasies in a diary, in which she wrote: 'I am in crisis. I am so bored of my life and need a miracle.

'I try to be nice and decent but I always end up one way or another trying to **** someone, a girl or a boy.'

The entry on a computer diary entitled The Life of Chloe Dolton continued: 'I should be out having fun with every boy I meet, having sex with whoever I like.

'I am such a hateful girl, such a selfish girl.'

The prosecution said she fulfilled her fantasy at the end of an evening spent drinking alcohol, and later accused the two men of rape because she was ashamed of what she had done.