Would You Pay $350 For Madonna's Shoes?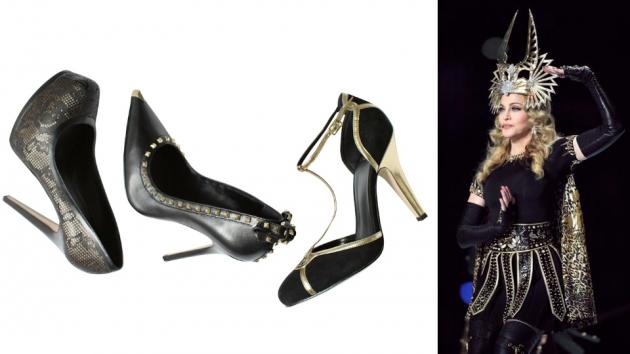 Madonna launches her forthcoming clothing, accessories and general lifestyle brand called Truth or Dare. It will start shipping to stores this fall. And while she's not doing any press for the label just yet, they are already starting to launch their first shoe line.
"Her fingers are really on this brand," insists Madonna's stylist, Arianne Phillips. It sounds like Madonna and Phillips went through your standard-issue celebrity "find something nice in closet, tell peons to knock it off" creative process. "The first thing I did," says Phillips, "was remind her of all the shoes she wore over the years, and we took the styles that we can't live without. You can always depend on her to bring her style and provocateur quality, but she also has a very feminine perspective."
Her label is slated to debut more than 60 styles of shoes and they will retail for $89-$349 (USD). Pretty pricy for a pair of Madonna's don't you think? The shoes will be produced under license by Aldo, and sold at Nordstrom, Asos.com, and Macy's.
What do you think of them?
Madonna's New Dare [
WWD
]